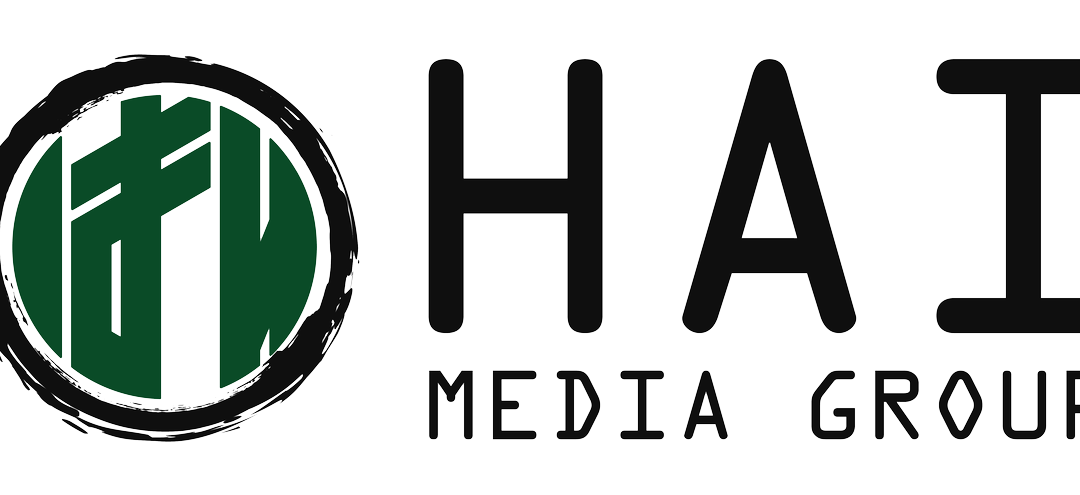 We've got a new look for Hai Media Group in 2016, with a new logo and, coming soon, a new website design. Don't worry – we aren't scraping features like our popular Startup Spotlight, and our blog, but we hope you'll like our new attire.
We worked with the graphic designer Daniel Bobroff, of House of DB, to develop a new logo and new brand look to dress up our social media presence and overall branding. He really helped develop the concept and appeal that we were looking for – and asked many questions to get into the style, look and message we want to relay to the world with our new appearance.
You'll see in our new logo that we've got a rough edge circle, drawn like a calligraphy line. This, for the Hai Media Group, represents the emerging, not fully constructed and even disruptive edge that many of our clients have as tech startups. We wanted to show that, hey, everything we work in is often a work in progress – and it isn't a neat, crisp line, as things are not quite finished. We thought our designer captured this essence really well. What do you think?
As we love looking at works-in-progress, check out the sketch process Daniel went through to create our new look here:
For Daniel, and his House of DB, design is about making a difference. He strives, whether creating a new brand identity and logo, or conceptualising packaging design, the same amount of thought, consideration, enthusiasm and determination goes into the process. Established in mid 2014, House of DB is a full service graphic design and illustration studio, with a firm belief that it's all about the creative process…and House of DB loves creating. They like working with clients who want to be hands on, collaborative and eager to be part of the journey but are equally comfortable being given a brief and told to just run with it. They strive to create work that is bold and unique but more importantly effective and something the client is excited about and proud to use.
For House of DB, it's about who you are today and where you want to be tomorrow.
Soon, you'll get to see our new web design unveiled, and this is in works by the web designer Dave Hall. Dave is a freelance web designer, residing online at I Can Make You Website. With a background including work in music industry PR and a number of his plays produced in professional theatres, he has specialised in creating sites for musicians and others in the entertainment industry. He is also the creator of Roktopus Themes, a nascent array of premium WordPress themes. He has a degree in Philosophy from Cambridge and lives in East London.