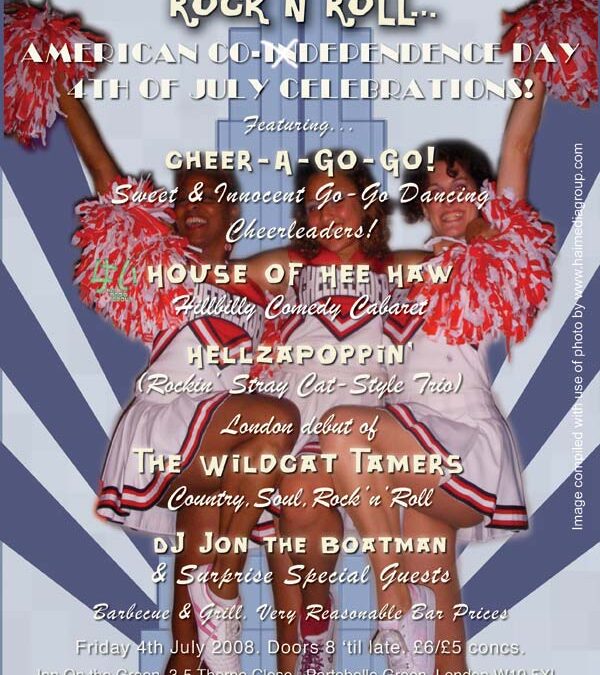 Hai Media Group's House of Hee Haw! hillbilly cabaret comedy will feature at Little Bit Country, Little Bit Rock n Roll for the new country rock club night's In Co-Dependence Day party celebrating America's Fourth of July Independence Day holiday.
"Get used to it! You're stuck with us!" said Chyene Pride, who is the fun-loving founder of London's live music and entertainment club night Little Bit Country Little Bit Rock n Roll.
Chyene Pride is a talented country rock musician who has pooled entertainment talent from across London for this annual American holiday celebration. She's also the lead Cheerleader in her dance troupe's Cheer-A-Go-Go, and the lead singer in her band The Wildcat Tamers.
To find out more information, please download this flyer: co-dependence-day-party
***EVENT BONUS OFFER: Guests to Co-Dependence Day also get a FREE hot dog, and a cowboy hat to wear for the night. Print out the eFlyer and bring it along to get entry, and your free hat and hot dog. £5 entry fee.
JOIN THE MYSPACE GROUP AT WWW.MYSPACE.COM/LITTLEBITCOUNTRYUK
Cheyne Pride has a long history in music and entertainment, including having a chart topping pop song in the 80s "Call Me Mr. Telephone". Watch the music video here:
Cheyne Pride Sings Call Me Mr. Telephone (1985)